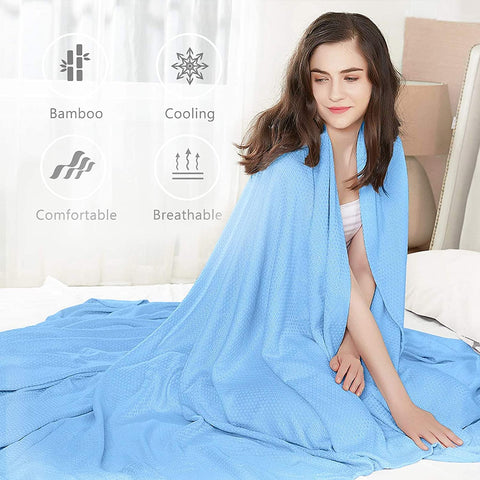 Bamboo Fabric: 100% natural bamboo microfiber is silky softness, feels quite comfortable and cool to the touch right off the bat. The unique diamond pattern design can enhance air circulation through the lightweight blanket, cool air to help you enjoy a really relaxing sleep.

Air Condition Blanket: Our cold touch bamboo fiber has a high specific heat capacity, it instantly feels cool on your skin when you touch this summer blanket. Cooling blankets for hot sleepers keep cool. You can use this lightweight blanket all night without getting the sweats, dry all night.

Color and size: We provide a variety of sizes and colors to choose from. 71x79 inches cooling blanket full size is suitable for kids, teen, adult that who wants a comfortable blanket to keep cool! Bamboo blankets will shrink a little, we recommend that you choose a bigger one to use.

Easy to Clean: This cool blanket is suitable for machine wash in cold water or hand wash. Do not bleach. Please hang it on the clothes hanger vertically and dry in a cool ventilated place, then the thin blanket will restore to its original size. We recommend that you put this bed blanket in the laundry net bag to prevent it from tangling, damage.

Satisfactory Service: Cooling blanket is a perfect gift for anyone you love. If you are not completely satisfied with your purchase, please contact with us. We will give you a satisfied answer, providing satisfactory service is our aim.
Cooling Blanket
Cooling blankets are the coolest thing on the market right now. as they are the perfect solution toroblems with summer sleep.
We Cooling Blanket is soft similar to silk.
Perfect for sleeping, cuddling, or even as air conditioning blanket. Ultra soft and breathable, perfect for cool summer nights.
We hope our products will bring the greatest comfort to your family.
Very durable and long lasting. Suit for indoor temperature 80F to 95F or good in air condition room.
Cold to the touch bamboo fabric features high specific heat capacity which will keep you cool through the night. With the cooling feel of bamboo blanket, you will fall asleep faster and stay asleep longer.
Hand wash please, and Do Not let the bamboo blanket dry in the sun and it also can't be dried by a dryer. Please hang it on the clothes hanger vertically and dry in a cool ventilated place, then the blanket will restore to its original size.