Look No Further than a FUNNRY Mattress Encasement.
Funnry Mattress Encasements provide 360 degree premium protection against liquids, stains, allergens and bed bugs. They are ideal for those with pets or children, or anyone suffering from bedbug infestations, incontinence, asthma or dust mite allergies.
Leaving your mattress unprotected from just one bedtime accident can result in a permanent bed stain or odor, which can be near impossible to remove. A SureGuard six-sided waterproof mattress protector will provide lasting protection for your mattress, giving you peace of mind and a healthier sleep surface for you and your family.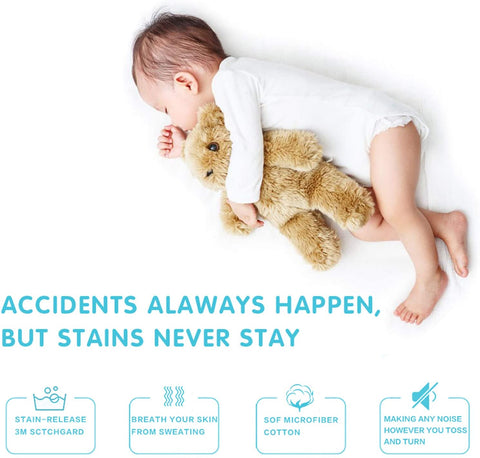 OUR UNIQUE ADVANTAGES:
MOST PREMIUM MATERIAL: 40% Premium Bamboo material -- ULTRA-SOFT, NOISELESS, MOST SMOOTH
Please kindly note that poor quality mattress protectors will be noisy, not comfortable. Usually, they are with less weight and don't have bamboo material. Everyone should have better understanding of mattress protectors and choose best quality ones. Especially care baby, pregnant women, old people and sensitive skins.
UPADATED 3D LAYER AIR FABRIC DESIGN:
Using the new 3D air layer fabric. it has better ventilation and comfort than ordinary and coral fleece. At the same time, its durability has been greatly improved which is 3 times that of ordinary mattress protector. And it also can withstand multiple cleaning for a long time with no deformation and tear.
UNIQUE BREATHFUL AIR HOLE DESIGN :
There are thousands of air holes in the cover of the mattress protector which makes it to be more breathful and cooling than other mattress protectors. It will keep you cooling all night, and will not generate a lot of heat and sweat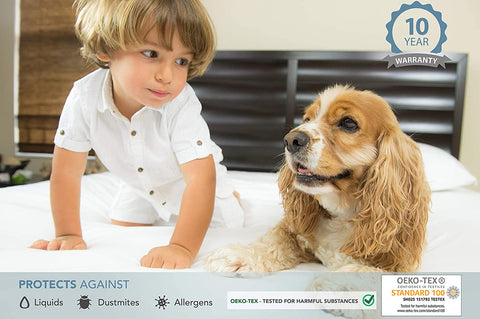 100% Waterproof -  Waterproof Mattress Protector
Unexpected accidents wet your mattress?

Waking up in the morning because sweating?

Feel noisy and uncomfortable because of poor-quality mattress protector?
Don't worry, with FUNNRY Mattress Protector, NO MORE THESE ANNOYANCE ANYMORE!


Great Stay-On Power
The elastic band makes sure that the mattress protector stays in place and does not slip or bunch up.